Wellbeing and Pastoral Support
Upper School
We care about you
We know how difficult and challenging it is growing up, with so much going on in school and home life too, with friendships and those you love.
Our pastoral team are dedicated to being there for you – to listening to you, supporting you and doing our best to help and understand. So whether you need someone to talk a problem with through, to share an idea, or to help you reach out to others, we have a specialist team, trained and qualified within easy reach.
The tutor is usually the first point of contact for any questions or concerns pupils or parents may have, but we also have a number of other staff with specific pastoral responsibilities.
We want you to be happy
We know that happiness is a prerequisite to academic and extra-curricular success and personal development. So, we will do all we can to support you and help you to have a happy time at school.
Not only will you be part of a tutor group, you'll also be part of our House system, where there are lots of opportunities to get involved in school life and make new friends.
There are eight Houses across the Upper School and lots of House events including drama, music, sport, quizzes and fundraising.
We want you to grow emotionally intelligent
Through our timetabled PSHEE and emotional wellbeing lessons, we'll help equip you with the emotional tools you'll need to get through the next few years and beyond.
Learning how to manage emotions, as well as looking after our physical and mental wellbeing are all important life lessons that we help you with.
In-house careers advice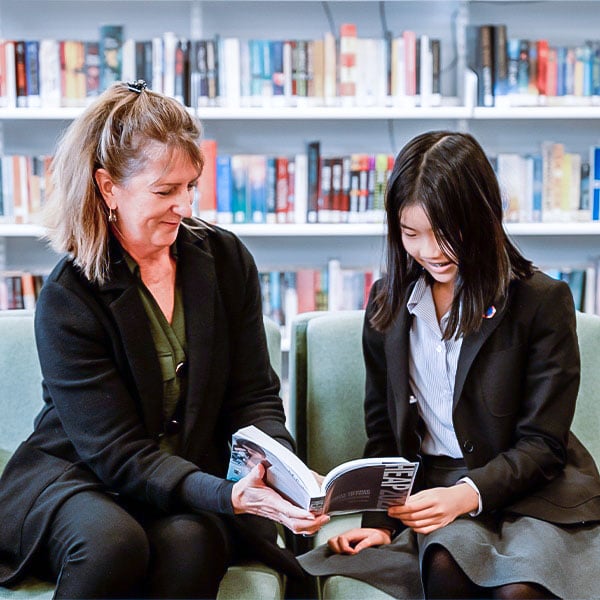 Our in-house careers advisor is available to give advice and support on a wide range of areas including interview techniques, career choices, CV preparation, mentoring and work experience opportunities.
Feeding a happy and healthy body
The teenage years are a time of continued growth. We provide high quality, healthy food options using the best fresh British produce including free range eggs, fruit, vegetables and meat from local farmers, producers and artisan food suppliers . The daily menu includes two main course options, a vegetarian option, as well as a selection of side dishes, pasta and sauce, hot and cold desserts and fresh fruit. Pure Perse dishes are available daily and are made without the 14 most common allergenic ingredients covered under government labelling legislation.
The pop up tuck shop and PAC café is available daily enabling pupils to purchase breakfast, morning snack and a sandwich/snack at the end of the day ahead of after school activities.
Anti-Bullying Ambassadors
Over 40 pupils across the Upper School serve as anti-bullying ambassadors. They promote our positive, kind and caring Perse culture, through workshops and events with staff and our student council.
Supporting parents and carers
Our pastoral team work together with our Perse Parents' Association (PPA) to arrange regular talks which cover a wide range of relevant topics including drugs, relationships and online safety.
Here are more details about our pastoral team.
Deputy Head (Pupil Development and Welfare): Ed Wiseman
Overall responsibility for the welfare of pupils. Responsible for child protection alongside the Assistant Head (Pupil Welfare) and the Assistant Head (Inclusion, Equality & Diversity).
Assistant Head (Pupil Welfare): Dani Creese
Offers guidance and support to individual pupils in all year groups. Responsible for child protection alongside the Deputy Head (Pupil Development and Welfare) and the Chaplain/Senior Tutors.
Assistant Head (Pupil Development): Oli Peat
Works closely with pupil leaders to ensure pupils have leadership opportunities and a chance to take on roles of responsibility, as well as providing pastoral support.
Assistant Head (Inclusion, Equality & Diversity) & Chaplain: Emma Rothwell
Leads the IE&D team to develop inclusion across 3-18 and staff. Supports pupils, staff, parents and alumni. Responsible for child protection alongside the Deputy Head (Pupil Development and Welfare) and Assistant Head (Pupil Welfare). Leads assemblies and offers support to all pupils (of all faiths and none) when needed.
Senior Tutors: Gareth Machin and Emma Jones
Support individual pupils and oversees talks and support for parenting.
School Counsellors: Laura Martin, Beth Boniface and Briony Wright
Provide confidential support for pupils who might not want to approach a teacher.
School Nurses: Maria Brightwell, Katy Clark and Katie Murphy
Provide medical care throughout the school day and during sports fixtures.
Pupil Voice Co-ordinator: Beth Gladwell
Works with the School Council to give pupils an insight and input into the running of the school.
Pastoral Support Assistants: Amy Best and Joanne Edwards
Provide solution-focused support to pupils.