Sport
Beyond the Classroom
PE and games
Years 7 and 8
In games, cricket, hockey, netball (girls), rugby (boys) and tennis are compulsory. Pupils are split into ability groups where they are coached by specialists.
Pupils try a variety of different sports in PE, including gymnastics, badminton and basketball, and develop an understanding of the benefits of exercise. They learn how to apply training methods such as speed, agility and quickness (SAQ) and core body exercises to enhance their fitness.
Years 9 – 11
In games, as well as our core sports, additional sports are available for pupils to select including basketball and badminton in Year 9, rowing and shooting in Year 10 and climbing in Year 11.
Pupils get the chance to participate in a number of different activities in PE, such as orienteering, volleyball and lacrosse, and are also introduced to the fitness suite, learning methods and principles of training. We also develop pupils' coaching and leadership skills as part of modules such as inclusive sports and global games.
In Year 10, students have the opportunity to study for an internal PE certificate over two periods per fortnight as a mini elective option. This gives pupils a chance to extend and enrich their knowledge and passion for sports science. They explore the theoretical aspects of sport and relate to topics such as anatomy, exercise physiology, history of sport and psychology through their own sporting performance.
Extra-curricular sport
We want each student to find a sport they enjoy enough to pursue after leaving school. We strive for excellence both in performance and attitude, and cater for everyone – regardless of ability – by providing a very high standard of coaching, facilities and opportunities to train and compete.
We field around 160 teams each year and play on average 450 matches per term across all sports.
Cricket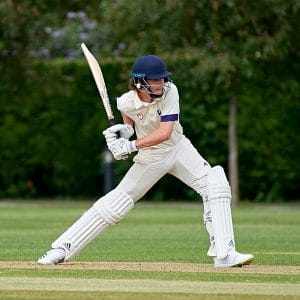 The cricket programme's main focus is on all individuals developing and practising their key skills, in addition to structured and focused nets sessions.
During the winter, pre-season training takes place for all age groups indoors, using our six-lane indoor nets.
In boys' cricket, we field teams across all year groups, who all have the chance to represent the school in various county and national cup competitions. For those excelling in their age groups, there is the opportunity to play for the year above in order to maximise their potential and further develop.
In girls' cricket, we field hardball teams in the U13, U14 and U15 age groups, as well as softball teams to cater for all abilities and interests in the game. The U15 team enter the national Twenty20 cup and the U12, U13 and U14 teams take part in county competitions. In addition, we field U15 and U13 sides in the Lady Taverners national indoor cup.
Pupils also have the opportunity to take part in UK-based cricket trips and festivals as well as longer haul tours.

Hockey
The hockey programme aims to provide an environment in which every student has a rewarding experience. The high quality of our coaching and excellent facilities enables players to fulfil their performance potential.
In Years 7 and Year 8, our emphasis is on enjoying the game. Players relish learning new techniques and honing core skills with regular opportunities for seven-a-side match play.
From Years 9 to 11, we move to the 11-a-side version of the game, with a greater focus on tactical awareness and developing successful team play with pupils looking forward to representing their school teams in weekly fixtures.
We have multiple teams across all year groups and during the Michaelmas term, boys and girls also play indoor hockey. We enter all national schools competitions at U13, U14 and U16 levels, as well as the national indoor schools championships at U16, and have a proud tradition of success at county, regional and national levels.

We also aim to provide a broad range of touring experiences with both domestic and international trips including a pre-season training camp at Bisham Abbey, the home of England Hockey, in Year 9 and biannual European tour in Years 10 and 11.
Netball
Although we strive for excellence in performance and attitude, we cater for all students to ensure they enjoy playing netball.
In Years 7 and 8, the focus is on enjoyment and gaining and improving core skills. Sessions are staffed by highly qualified coaches to allow every player to receive focused training and feedback during this fundamental part of their development.
In Years 9 to 11, players begin to develop a better understanding of the game by adopting a more technical viewpoint.
We field multiple teams across all year groups and enter sides in the national schools championships and the Independent Schools' Netball Knockout Competition each year.
Rugby
Our rugby structure allows players access to high quality coaching and plenty of opportunity to develop their skills.
In Years 7 and 8, our emphasis is on fostering a love of the game by developing a sense of confidence and competence in contact, allowing players to feel secure in their skills.
In Years 9 to 11, we encourage boys to play an expansive and enjoyable brand of rugby, developed through a games-based approach in training sessions, while focusing on developing specific skill sets for more able and dedicated players.
We run multiple teams in all year groups, but the highlight of our rugby programme is the opportunity to tour. Our U12 and U13 weekend mini-tours are open to all and highly popular.
Tennis
Our tennis programme enjoys high levels of participation and we coach our teams largely in doubles match play. Pupils playing tennis are organised into groups – the team squad, the development squad and the beginners.
There are tennis teams in every age group and we enter the national schools team competition (AEGON Cup) in the Lower and Middle School for both girls and boys. We also host a tennis tournament for U14 girls' and boys' teams and have a tour for boys and girls to Val de Lobo, Portugal, every two years.
Other sports
Athletics – Pupils can compete in several athletics meetings for the school during the season.
Badminton – Our weekly lunchtime club is open to all.
Basketball – Weekly sessions run at lunchtimes for all year groups. After-school training sessions take place for teams, with competitive fixtures for pupils from Year 9 upwards.
Cross Country – We have teams for all age groups and compete regularly in local and national competitions. Meanwhile, our after-school Perse Runners group provides an informal opportunity to all ages to enjoy a short group run in the local area. We also offer an inclusive Couch to 5km programme for those wishing to take up running.
Fitness – We have a strength and conditioning coach who runs lunchtime and after-school clubs for students who wish to follow a fitness programme.
Football – We run an after-school football club for all pupils in Years 7 and 8 and a lunchtime girls' football club open to all ages and abilities.
Golf – Our Golf Academy is open to Years 7 to 9 and is held weekly after school at Cambridge Lakes with coaching from the club professional and the opportunity to play in competitions. The most able golfers from Year 9 upwards can join our senior squad.
Orienteering – We enter teams into the national school championships every year.
Rowing – Students train both indoors and on the river and are entered for local and national competitions and regattas. Those with potential are put forward for selection to the England Rowing Talent Pathway. We also run an indoor rowing club and enter a team into the British Rowing Indoor Championships each year.
Shooting – Lunchtime sessions with a professional coach are open to all ages in our dedicated range, with the opportunity to take part in national competitions.
Table tennis – After-school sessions for all take place twice a week, while we also have four outdoor tables available for use at any time.
Taekwondo – Weekly after-school sessions with a professional coach are open to all ages and abilities with the opportunity to move through the grading system.